Stooping to Rescue the Congress Chief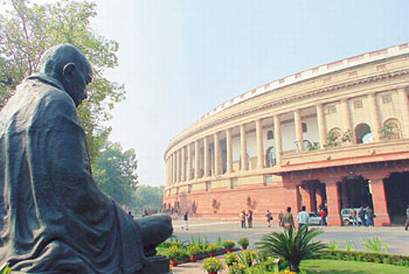 Mahatma, the silent spectator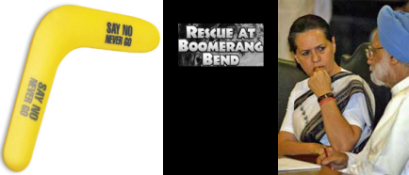 Can you do it?
Both the Houses of Parliament have been adjourned sine die on 22nd March, 2006. No one should have any doubts that this action has been taken to enable the Government to bring out an Ordinance to amend the Parliament (Prevention of Disqualification) Act, 1959.
The sole purpose of the Ordinance, which should see the light of day on the 23rd March, 2006 is purely to save the Congress Party Supremo, Mrs. Sonia Gandhi. If in the bargain, some other Parliamentarians like Karan Singh and Somnath Chatterjee get the benefit of the amendment, the benefit to them is just incidental. This is one more instance of the motivated actions that have guided this Government in many of its actions since it came to power.
Clearly, the complaint initiated at the behest of the Congress powers against Jaya Bachchan has boomeranged and backfired very badly on the Congress Party exposing the immaturity of its department of dirty tricks.
After Jaya Bachchan was declared as disqualified by a Presidential Order, the Samajwadi Party made a tactical error in rushing to pass UP State Legislature (Prevention of Disqualification) Act, 1971, amendment bill. First, if the intention was to save Jaya Bachchan or Amar Singh, the party's legal advisers should have known that only law passed by the Parliament could save a disqualification of a Member of Parliament in terms of Article 102(1)(a). A State Act for this purpose can only save members of either House of the State Legislature who might otherwise face disqualification in terms of Article 192(1)(a) of the Constitution.
Secondly, the Samajwadi Party also made a tactical mistake in the political sense. If they were sure about the possible disqualification of the Congress Chief, they should have anticipated that the Government would somehow try to save her by bringing the amendment that is now being proposed. The amendment to the State law would have been completely justified once the amendment to save Sonia Gandhi was made.
Be that as it may, the country is watching how the Congress party has been trying to break new ground in committing constitutional and other improprieties to sustain and strengthen its power base. It is also a sad reflection on the other components of the UPA particularly the NCP, RJD and the Left parties who remain mute participators in the undesirable machinations of the Congress Party, led by Sonia Gandhi and the Government, led by Manmohan Singh.