Lalu Yadav - Better in Rajdhani than in Bihar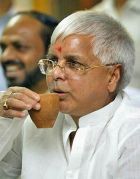 The Kulhad days.....
The Rajdhani...Gathering speed..



Lalu Yadav gets full credit for turning the Railways around. Many Ministers in charge of Railways have come and gone before him and claimed to have done so much for the railways. But it is Lalu who has performed the role of a catalyst to galvanize a massive sleeping organization into real action for the first time.

In turning around the operations of the Indian Railways, he has given a lesson or two to the proliferating experts in government on efficient management of the nation's assets to realize their inherent potential that continues to be criminally wasted so far. Whether he has achieved this by giving a free hand to those who run the Railways or by being a hands-on Minister or a combination of both, he has truly done something for which the nation should give him credit.

He has also proven that he is more useful in Rajdhani running railways than in Bihar, running the State as his personal fiefdom. Credit for allowing him to rise to his real potential must also indirectly go to Nitish and the NDA who put an end to his non-rule and misrule in Bihar.

In judging his performance as the Railways Minister, the absolute figures and qualitative improvements that have come about are, perhaps, less important than the mere fact that the dramatic turnaround has come about in just two years, when many were inclined to consider Railways as a perennial drain on the economy.

Lalu seems to have suddenly become a more mature administrator with some clear ideas, than earlier thought out to be from his Bihar days and from his early Kulhad days in the Railway Ministry.

The Prime Minister needs to initiate a case study on the Railways turnaround and Lalu's methods to demonstrate the same as a model for the many pen-pushing Ministers in his Government who have so far not shown any capabilities to do justice to the onerous tasks of their ministries.